Last year had been a major year for social media platforms, with more and more businesses making most of the popular social media sites to boost their brand engagement and revenue.
In 2021, the users on social media platforms drastically increased to 3.7 billion globally, forcing brands to come up with innovative strategies to keep their target audience engaged. As we enter the new year, many companies are revamping their social media strategies to evolve with the rapidly changing trends.
Before you make the changes, it is crucial for social media marketers to determine the trends that will start on top in 2022. Let's have a look at the social media trends to follow this year: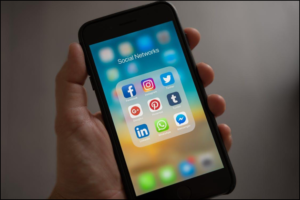 Rise of the Influencers
The advancement and easier accessibility of creative tools has resulted in the emergence of creative influencers. While the traditional influencers are still going strong, businesses should look into creative influencers who are skilled in utilising these tools to create original content.
These influencers have a unique vision that allows them to flourish and gain a massive following. The pandemic has shifted the way influencers worked with limited options due to the options.
These creative influencers have emerged by providing one-of-a-kind content using limited resources. Marketers need to invest more on collaborations with these creative influencers to give their brands a unique perception.
Streamlined Social Commerce
Social commerce has emerged as a subset of e-commerce websites, where everything related to the products occurs on social media – from product promotion to post-purchase support.
Majority of consumers prefer Instagram to find new products and brands to purchase and more businesses are realising the power of social commerce. Particularly, in the past two years, when people were forced to stay at home, more people started relying on social media platforms to make their buying decisions.
Social media has now revolutionised into a virtual mall. People can easily browse through multiple products, watch tutorials, and find inspiration, leading to quick purchases. This is the reason why social media platforms have introduced commerce tools for businesses:
Instagram Shops and Instagram Checkout has made it easier for brands to create online stores where customers can directly purchase.
Pinterest has launched a Shop Tab to help consumers browse products and shop through their pinned products.
TikTok has been testing a shopping feature in collaboration with Shopify.
This trend will become increasingly popular this year as more social media platforms provide better commerce options for businesses and users.
Short-Form Vertical Video
Videos has been dominating social media platforms for the past few years now, but short-form vertical videos have now taken the lead after the popularity of Instagram Reels and TikTok.
There is no doubt that video content offers a more engaging way of storytelling and has proven to drive higher sales. Marketers realise that videos are a significant growth hack. Instagram videos and reels drive higher engagement than any other posts. Video Tweets get 10X more engagement.
Within a year, there has been a boom in video content from multiple creators and brands in the effort to connect more with the audience. It has helped in forming a deeper connection with the target audience and increasing awareness about a product or cause.
In 2022, more creative video content is expected from influencers, creators, and brands to improve engagement. Moreover, most of the videos now are included captions or subtitles to increase their accessibility and reach a wider audience.
TikTok Becoming Increasingly Popular
While Instagram has been popular for social media marketing in the past few years due to its high return on investment and growth rate, TikTok is quickly taking centre stage and is expected to grow more in 2022.
The recently launched TikTok quickly surpassed one billion users in September last year, making it the 7th popular social media site in the world. Due to its video format, this platform gained rapid popularity with a 45% increase in its users only in a year alone.
The demand for this social media platform continues to increase and it is estimated to become a major social media marketing site this year.
Emphasis on Burnout Prevention and Mental Health
According to a Vibely report, 71% of content creators have seriously considered quitting their social media, and 90% of content creators have experienced burnout. The lockdowns, increased time spent on social media, and the pressure of producing unique content have been major causes of this burnout.
There has been an increase in brands and creators spreading awareness about burnout effects and the importance of self-care and taking breaks. There will be a further increase in conversation around mental health and burnout prevention in 2022. It is crucial for brands and creators to produce relevant content to connect with their audience.
Instagram even launched its "Take a Break" feature that is currently being tested in a few countries, including Australia. It allows users to get notifications about taking breaks from social media after a specified duration. Instagram has also announced it will offer tips from experts to help users take breaks and prevent burnout.
More and more brands are going to step toward this direction and it is something social media marketers must consider for their strategy in 2022.
Using Paid Advertisement
Paid advertisement has already become a major thing in social media platforms. If you haven't been using the paid ads feature, it is about time you started it.
Due to the ever-changing algorithms of social media, there is always a fluctuation in the organic reach. Many brands have seen a decrease in their reach and have increased their paid ads budget on social media platforms.
The paid advertisement on social media sites has worked well for multiple brands, indicating this should be a major part of your social media marketing campaigns.
Wrapping Up
With the increasing popularity of social media platforms and the innovative changes on these popular sites, social media marketing has become more important than ever before.
Since it is a rapidly changing sector, staying on top of the latest social media trends is important for marketers to stay ahead of their competitors. These social media trends will help you in creating a strong social media strategy and gain impressive results.
https://www.savvycreations.com.au/wp-content/uploads/2018/07/savvycreations-new-logo-300x212.png
0
0
Sandra Tricoli
https://www.savvycreations.com.au/wp-content/uploads/2018/07/savvycreations-new-logo-300x212.png
Sandra Tricoli
2022-01-24 10:31:24
2022-01-24 10:31:34
2022 Social Media Trends